What if Carlisle had a daughter biologically-Bella. Many years ago, when he turned into a vampire, he left them because he was afraid that he will be tempted by the scent of their blood. When he comes back after a few years, his heart was broken by the news that his wife had died and his daughter was missing and presumed to be dead. Things continue as normal- He forms the Cullen coven when suddenly, everyone's lives is transformed by a new golden-eyed vampire, the missing daughter who loaths her father with a vengeance.

~Golden Eyes~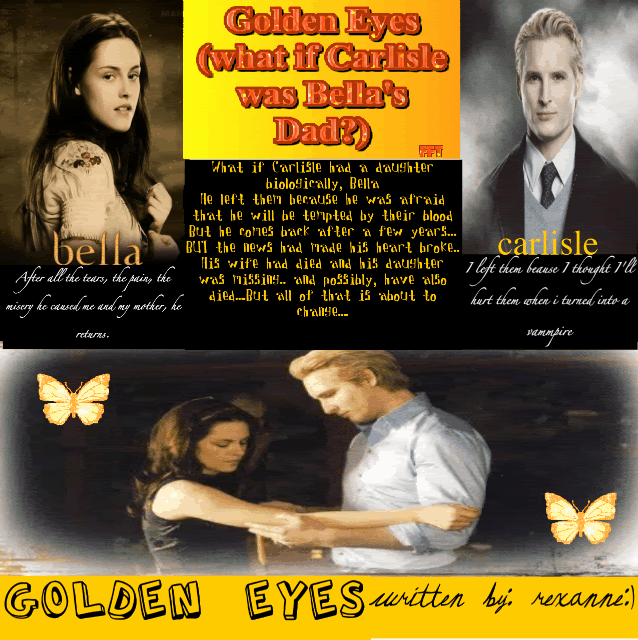 banner made by me (i make banners! want one? post a comment at my page:D)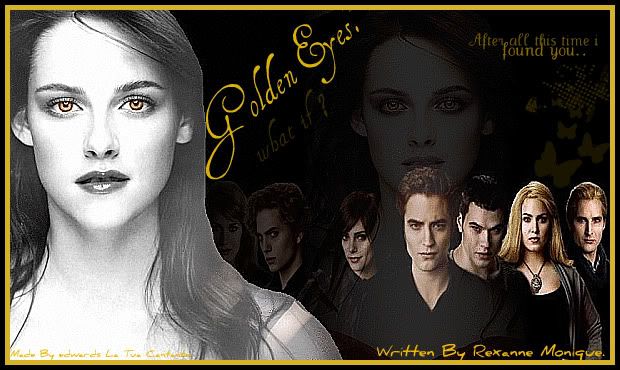 awesome banner made by edward's la tua cantnte :D thank you so much!!!

made by the awesomest fan of this fic, Paigey ☺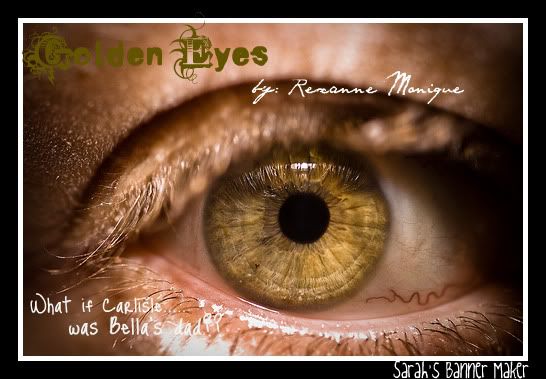 made by :sarah yerkey thank you so much!!!! i love it so much!!



made by: me :)



made by:zoe thanks really thanks really really thanks i love it !!!



made by:adrianna thank you very much i love it so much :)



made by:twilight love story o_0 thank you so much i love them!!



made by:twilight love story o_0 thank you so much dear i love them!!!



made by:I love edward! thanks a million :)

I stood there, in a simple yet breathtaking meadow I found when I was out hunting .A strange new scent filled my nose. It was like honey and lilac combined yet not exactly the same. I searched every single direction but I could not find anything or for that matter,  anyone. It was just rain.. tiny droplets of rain. Just like the tears my eyes did not allow me to shed in this state.

I felt the satin-like texture touching my hands. I spun to its direction and truthfully, I saw the most angelic face. His God-like features was not the only reason I was not able to get a grip on myself.  It was not his breathtaking smile, not the golden tone of his eyes but  the love radiating from him to me..

And I stood there, asking myself what I felt in that moment: .. hate or love???

My heart answered back. Both.