This is a story about bella as a baby and the Cullens find her in a car crash with her mom.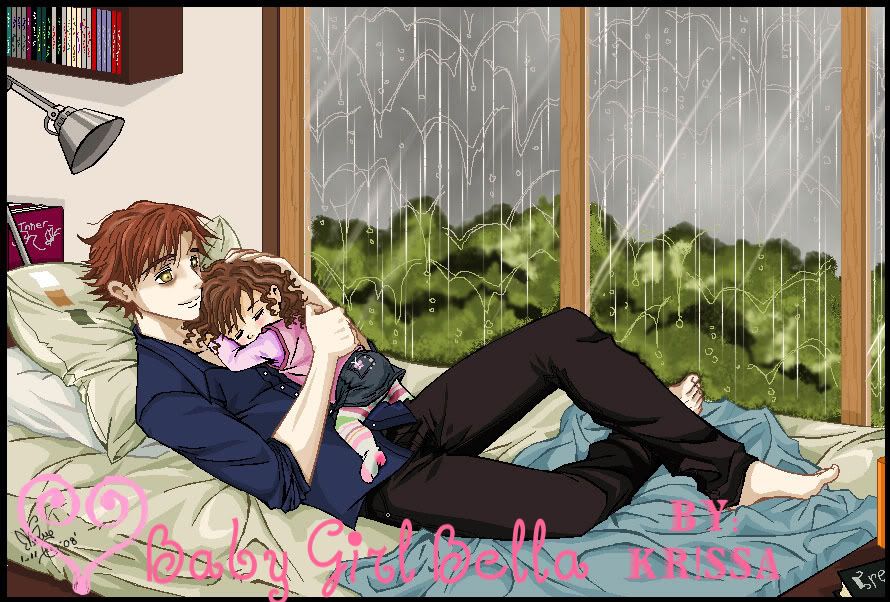 a very big thanks to the people that made these banners!!!

Chpt.1 Edward's p.o.v.

Emmet, Jasper, and i are going hunting today. I went downstairs and asked them if they were ready to go. They both said "yes" and then i asked "do you want to race to the river?" Of course Emmet said "YEAH!" and Jasper said "sure." As soon as he finished i started running towards the river and Emmet said"no fair, you got a head start!!!" I laughed and in seconds i was at the river. Emmet and Jasper got there and Emmet said "i would've won but you got a head start!" I then sarcastically said "sure you would have."

When we got done arguing we all jumped over the river and let our vampire sences take over. I smelled some elk and deer about 3 miles into the forest. I was running towards them when i heard crying. I let my ears lead me to where the sound was and when i was right next to the crying sound i opened my eyes and saw that it was a woman in a car with her baby in the back seat. The front end of the car was destroyed by the tree that they hit. I could barely hear the mom's heart beat, but i could hear the baby's. I knew the mom was going to die so i was going to help the baby. I opened the back seat door when i heard a faint wispering noise. It was the woman in the front seat.

She said " please take care of my baby." After she said that her heart stopped and i knew that she was dead.