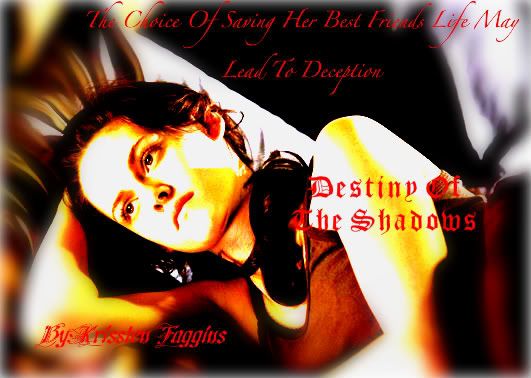 Pre-Face
"You guys are like the perfect couple" Jess says as we both walk threw the alley way to the book store. I luagh every one says that about Edward of course hes the perfect boy friend. He looks like a god! but secretly there was a different reason th....
My thoughts are interupted by Jenn screaming I turn around to a guy eith a knife to her kneck. "What...What are you doing let her go!" He had a mad look in his eyes "LOOK GIVE ME WHAT YOU GOT AND YOUR FRIEND HERE WONT GET HURT" i then started breathing hard because I felt him on the back of my neckI felt the wantingspirit that needs to protect me.
"Bella Step Back" I do as he says a little frightend by the snarl on his face not being the only one the attacker quickyly runs but as he does Jenn screams again. Edward runs after the guy as i look to see if Jess is ok. I storke her cheek but then feel something wet. I pull my shaking hand from her and see it is blood.
I then scream "EDWARD" for not more then a second I see the whole Cullen family around me. The only sound you could hear were Jenn choking on her own blood "Please Carlisle help her" He checks her neck "Im sorry Bella its just to much blood loss" I close my eyes still hearing the sound of her choking "Change her" Carlisle shakes his head I plead "Please she cant die" Edward comes to me "Bella thats not such a good Idea "Why!!save her please" Edward slightly nods at him "Ok well if we are going to do this you have to leave Bella and we have to taker to the house"
In a way I was slightly Jealous ,jealous that she was going to get what u had been longing for to become apart of their world.Avampire.I guess it will eventually come and I have to belive
MY DESTINY IS HIDDEN BEHIND THE SHADOWS