This is my first fanfic.
I don't know if it is any good, so i thought i would let everyone else decide if i should carry on or not.
Hope you like it.

Disclaimer: All the Character's belong to to Stephanie Meyer, not us!

It is New Moon Chapter 3 - The end ( The chapter where Edward leaves Bella after the Birthday party)...From Edward's POV.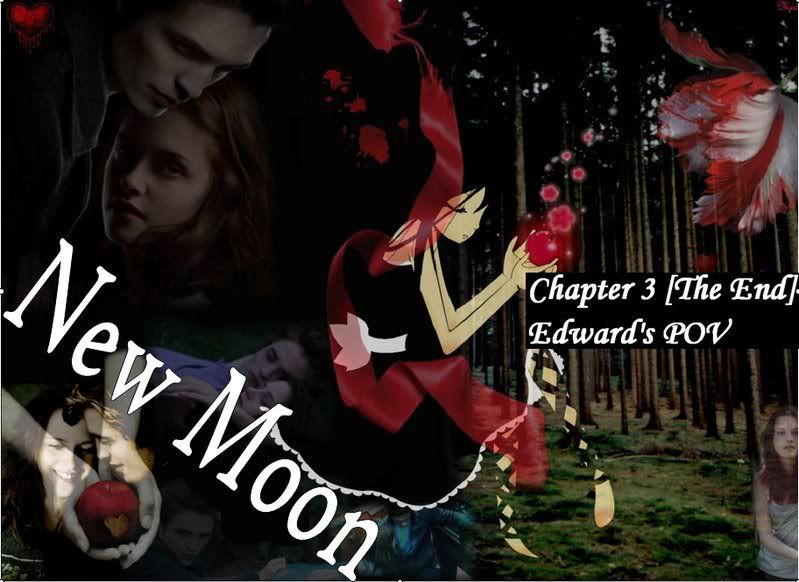 Part 1
The sun finally began to rise behind the thick grey clouds that over shadowed Forks, after what felt like one of the longest and painful nights of my existence. I had spent the entire night fighting the urge to wrap my arms protectively around Bella in a cast iron embrace that would surely crush her to death instantly. How could I protect her though?
Myself and my family were the most dangerous to Bella and it had come so close last night –
No, I didn't want to think of last night, of Bella's birthday party at my home.
I refused to think about it, but being a vampire, several things could occupy my mind at the same time. Whilst I tried my hardest to force the memory of last night to the back of my mind, it was like it was screaming at me, not willing me to forget, and not allowing me to think of something or anything else. It was torture.
I felt cold. Being a creature – the monster I am, I was used to feeling cold to others beside my family, but I had never before felt cold myself. I didn't like it. I was freezing in my already frozen form. I could feel the new expression worn on my face, one I had never experienced before. It had been fixed onto my face ever since Rosalie and Emmett had dragged Jasper away and outside yesterday evening. Although I couldn't see this new expression, I could feel it was one of shock, pure agony and guilt-ridden pain. It remained unchanging on my face throughout the night.
The only interruptions to the screaming memory in my head were when Bella stirred in her sleep, which was often. I couldn't help but be thankful for her stirrings as the screaming stopped for an instant as the dominant part of my mind which attributed Bella, and wondered is she was alright, having a nightmare, or even worse – if she was in pain. At the thought of her being in pain, I couldn't help but cringe away from her slightly because I knew that if Bella was in fact in pain, it was my fault.
Despite her stirring, Bella slept with serenity about her. She mumbled my name several times, but I couldn't be pleased about that as I usually would of because I was sure that I was part of the nightmare I was sure she was having.
As the morning slowly grew lighter, a different light dawned on me. I knew what I to do to protect my Bella. Only she wouldn't be my Bella anymore after this. A new feature suddenly added to my pained expression, which was assured determination for what I planned to do. I thought quickly because I knew Bella would soon be awake.
Bella.
Oh, how I desired that I could stay with her forever.
Forever holding her gently in my arms.
Forever feeling the pulse of her sweet-scented blood flow in the veins beneath her skin.
Forever.
But, Bella wouldn't have forever.
Bella was only a fragile human. And her human life was being cut even shorter by my very existence. Every second she spent in the presence of myself and my family, her life was in extreme danger.
Bella suddenly opened her eyes; she blinked a few times and then stared right at me. I gazed into her brown eyes for a split second and then forced my eyes to look away. Everytime I looked into Bella's beautiful muddy brown coloured eyes, I was sure I could see her soul and it took my breath away.
Her restless night became apparent on her facial expression as she stiffed a yawn and jerked her body forward to sit up.
-----------------------------------------------------------------------------------------------------------------------------------------------
Part 2 is on Page 2
Part 3 is on Page 3
Part 4 is on Page 4
Part 5 is on Page 5
Part 6 is on Page 7
Part 7 is on Page 10
Part 8 is on Page 11
Part 9 is on Page 12
Part 10 is on Page 14
AND the Final Part - Part 11 is on Page 17.

Thank you for reading!
♥

DARK MOON [The rest of New Moon - from Edward's POV] has arrived -
http://www.thetwilightsaga.com/group/fanfiction/forum/topics/dark-m...