As you arrive home that night after a hard day at school and some after school you had just finished, you come home to see an envelope on your bed with a moon seal on it. Next to it is a red rose(if you're a girl)/a black rubber bracelet with a red rose and a moon on it(if you're a boy). When you open the letter you read:
Dear _________.
You may know me, either if you like, love or hate me..I don't really care but you have been chosen to come to Lunar High For The Supernaturals & Gifted. I am unsure if you are aware of your powers and species or not but If you aren't, it is HIGHLY important if you come to this school and if you are aware of them, you still have to come or you won't be able to handle any of it..I know that for a fact. No humans are allowed here unless gifted(meaning magically). The rose/bracelet will signify that you have been invited by me, also it has a charm in it so you cannot tell anyone about it being a Supernatural school. I made arrangements for someone to pick you up and take you in less than an hour after you get this, your parents think you're going to a normal school so don't even think about saying anything. Have a nice evening :)
~Headmaster Harry Styles xX
~~~~~~~~~~~~~~~~~~~~~~~~~~~
Forms For Teachers:
Two Gifs Or Pics
Full Name | Age |  Nicknames | Species | Abilities | Class Teaches | Crush/In Love | P/B
Forms For Students:
Two Gifs Or Pics
Full Name | Age | Nicknames | Species | Abilities | Favorite Class | Personality | Social League(Goths, Jocks, etc.) | Dorm Room #(you can make up dorm numbers) | Crush/In Love | P/B
~~~~~~~~~~~~~~~~~~~~~~~~~~~~~
Teachers(Or Staff) HARRY IS OPEN!!!!
Headmaster Harold "Harry" Edward Styles | 20 | Hazza, Hazzabear, Hazzie, Curly, Dimples, Cupcake & Harry | TVD Vampire | Mind Reader & Compulsion | Headmaster & Teaches Music Class | Crushing On Austin & Serena | OPEN
Niall James Horan | 21 | Ni, Leprechaun, Irish Blondie, Blondie & Mr. Horan | Wizard | Can Cast Spells| Spell Casting Class | TBA | Me
Julianna "Julie" Jessica Brooks | 20 | Julie, Jules, Ms. Brooks, Miss, Jessie, Double J | Werewolf (Twilight) | Posses great speed, heightened senses of smell, heals very quickly, can share her thoughts with pack, eyesight is sharper, stronger than humans | English | Imrpinted on Austin | ron loves harry
Jame Buchanan Barnes| 28| Bucky| Mutant| Enhanced senses,pyrokenisis, enhanced speed and strength and advanced healing| P.E| TBA| Le Grazie Salavataggio
Students!!!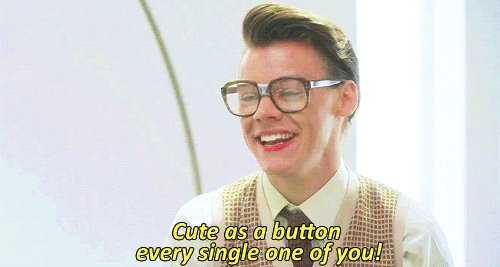 Marcel Styles(Harry's Doppleganger)  | 16 | Marcie | Human | Control Of All The Elements(Including Spirit) | Music Class | Quiet, Shy, Nervous, Very Smart, Funny, Kind, Sweet, Caring, Loving | Nerds and Outcasts | Dorm #12 | Crushing on Austin | Me
Austin Lou Tomlinson | 17 | Aus, Lou, Louis Look Alike, Tommo, Sass Masta From Doncasta | Fairy | Magic | Music | Outgoing, Funny, Crazy, Silly, Kind, Caring, Loving, Smart | Nerds and Class Clown | Dorm #11 | Crushing On Marcel | K<3
Serena Rosie Lovegood | 17 | Rena, Rosie, Red Head, Curly & Dimples | Werewolf | Transforming Into a Wolf | Theatre | Bubbly, Sweet, Funny, Cute, Shy, Silly, Quiet & Awkward | Outcast | Dorm #5 | Crushing On Harry | Me
Casey Denisa | 16 | None | Human/Mermaid | Transform Into A Mermaid When Touching Water. Control water. | Swimming Team| Sweet, Kind & Nice| New Girl | Dorm Room #5| Unknown | Roman Cullen
Shaelynn Rose Montgomery | 16 | Shae, S, Lynn, Rose | Witch | Magic | Music Class | Shae can be sarcastic, easily annoyed, and hot-headed sometimes, but if your lucky enough for her to let her walls down for you, you'll see who she really is. She can be sweet, compassionate, loyal, and she is a hopeless romantic. To calm herself down in times of distress she reads, plays video games, or sings and plays her guitar. | She likes to think that she's too different to fit in a specific category. | 1313 | TBD | K<3
Melody Angel Waters | 17 | Mels, Meli, Cutie, Freak, Gummy Bear | Shapeshifter / Hunter | Can turn into any living creature. She haves the senses of a hunter and can read peoples emotions sometimes. She can sing but rathers not do it in front of people. | English. | She's very kept to herself and hardly speaks at times. She is serious and mature, but once you get to know her she's very fun to be with and can be childish. She's one of the sweetest persons you'll ever meet and is very caring. She enjoys helping people and hate to see people take advantage of others. She's very mother-like. | Loner / Outcast | Dorm #7 | Crush - Niall | ron loves harry
Diana Moira Shadows| 17| Dee,Di,Squirtle,Cupcake,Dollface| Angel/Shape Shifter| Can change her appearance at will, access 100% of her mind and fly of course| P.E | While Diana is a very kind and compassionate person she is very deadly and is feared by some. She looks up to those who have fought to get where they are and genuinly enjoys life. | Track and Field (Girl Jocks)| Dorm #13| TBA | Le Grazie Salavataggio
~~~~~~~~~~~~~~~~~~~~~~~~~~~
RULES
1) Please follow the TTS RP rules & guidelines
3) No cussing
4) No Sexual activity or interactios
5) Play 2 Or More People
6) LOTS OF DRAMA
7) You may use gifs when RPing cuz I LOVE THEEEEM :D
8) No out of RP Drama
9) If you cannot be online all the time please tell me, I understand. We all have lives BTW I CAN'T BE ON, ON WEEKDAYS(Only sometimes)
10) HAVE FUN!!!! <333