The Vampire Diares and Twilight had collided in one and everyone found a mate. After a couple of years they had offsprings, who went off to Mystic Falls High School... What Happens when love approaches?

------------------------
Charlott "Lotti" Mae Black | Eighteen | Daughter Of Jacob Ephrin Black  and Elena Mae Gilbert|Nate

Born in Mystic Falls, Virginia. She was raised there too, her farther and mother both kept together no matter what, never fought with eachother of anything. Thats what made her family better from the rest.She took the Lovable and fun side from her dad, and the emotional side from her mother.

P/B | With You x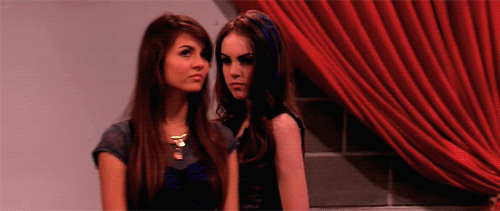 Alexander "Xander" Salvatore | Eighteen | Son Of Stefan Salvatore and Isabella Marie Swan| Gabby
He was born in Forks, Washington, he was always the most popular and most good looking kid in school. After his freshman year in Forks, he  moved to Mystic falls and join the school there. He has a damaged eye due to a fight when his ex girlfriend's ex punched him, so he wears glasses to see. Still no girl can resist him.

P/B | With You x
Gabriella "Gabby" Gilbert | Eighteen | Daughter of Rosalie Hale and Jeremy Gilbert | Alexander
She has lived her whole life in Mystic Falls. Her best friend is Charlott. Shes for sure not quiet. Outgoing. Kinda gets what she wants. If you dont know her you will. If shes your friend she loves you too death. If she doesnt like you well that stinks.
P\B| Paige Marie Barnes
Matthew "Matt" Cullen | Ninteen | Son of Edward Masen Cullen and Bonnie Bennett | No crush
Born In Forks moved to Mystic Falls over the summer. Hes not a popular kid kinda shy but hes outgoing once you get to know him. Love his family and friends. Misses Forks and all his friends but hoping for something good too happen in Mystic Falls.
P\B| Paige Marie Barnes
Jessica "Jess" Nicole Clearwater | Eighteen | Daughter of Seth Clearwater and April Young | Matthew
Jessica is the only daughter of Seth and April. She lived in Forks on the reserve her father grew up on and went to the school on the reserve She went to Forks high school for 2 years .Her parents decided it would be good for Jessica to go to high school where her mother went in  Mystic Falls.So they packed up over the summer break and now Jessica  goes to Mystic Falls High School. Jessica is a daddy's girl.She is silly and playful.Protects the ones she loves and cares for
P/B | Renesmee Carlie Cullen
Nathan"Nate" Andrew McCarty | Eighteen | Son of Emmett McCarty and Katherine Pierce | None
Nathan is the only son of Emmett and Katherine. He was born in Mystic Falls and lived there until he was 7 years old.His parents decided they wanted to leave Mystic Falls and went to Forks. Nate went to Forks middle school and high school.He met Jessica at Forks high school and they became good friends. The same summer that Jess's family was moving back to Mystic Falls so was his  family.He and Jess look out for each other
P/B| Renesmee Carlie Cullen
Form:
Name | Age | Parents | Crush
*Bio*
P/B|-
RULES:
NO DRAMA OOC

DONT JOIN IF YOUR GONNA DITCH OR I'LL DELETE YOU CHARACTER


BE NICE TO ALL RPERS

BOY AND GIRL PLEASE

ENJOY :) x