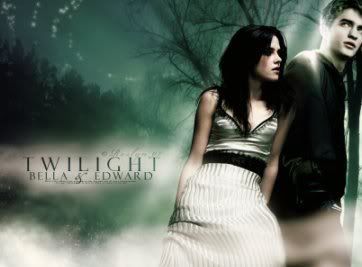 Twilight really is beautiful. Twilight. What more can I say besides amazing? When I began to read the books they were absolutely amazing, and they were even more amazing than the movie. But,I'm still in love with it. I think the movie was awesome.
I have to say, Stephenie Meyer is a genius. I love how the entire thing is put together, and makes you never want to put the books down until you know everything.It is truely awesome.
I love the way she made the Cullens different than the 'average vampire'.
After so many different movies and shows with the vampires being the same old thing(Evil blood drinking murderers, burning in sunlight, sleeping in coffins,etc.)it started to get kinda old. This, however, has a different twist and it makes things all the more interesting, probably because you don't know quite what to expect.
The whole series of books is just so interesting,but at the same time so easy to understand and to fall in love with.
I have read all of the books now,and love the way it ends. I still think there should be more books written in other peoples' perspectives as well, to get to know them better. If not, I will still be perfectly happy, :)
The point is, it is AWESOME and you should definately read the books. Oh, and watch the movie(s). That is if you haven't already.xD